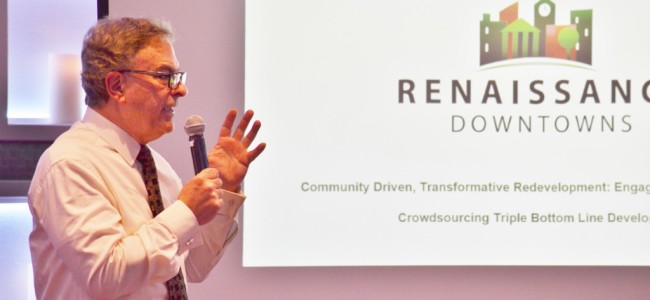 Town of Hempstead IDA Lunch (April 2016)
Nearly 100 Long Island Business Development Council members and guests participated in the LIBDC Luncheon hosted by the Hempstead Industrial Development Agency and its Local Development Corporation at Chateau Briand in Carle Place on April 4th 2016.
Joining with the Hempstead Industrial Development Agency in sponsoring the event were Forchelli, Curto, Deegan, Schwartz, Mineo and Terrana and RXR Realty. Many of those in attendance were the "movers and shakers" of Long Island's economy.
The opening remarks by LIBDC Co-Chairman Ted Sasso were followed by a welcoming address from Hempstead Town Supervisor Anthony Santino. In that address, Supervisor Santino expressed the Town's ongoing commitment to economic expansion.
The featured presentation was given by Renaissance Downtowns Chief Executive Officer, Don Monti. Monti described his and Renaissance's partner Urban America's plans for a major redevelopment of much of Hempstead Village. Their estimated value of that plan is $2.5 billion! Mr. Monti said that the proposed plan is the largest redevelopment plan ever for Long Island and it has received great support from government grants and regional planners.
The presentation was well received and followed by questions and answers from the assembled crowd.
The Long Island Business Development Council, now in its 47th year of continuous operation, has announced its plans for the 47th Annual Conference to be held at the Montauk Yacht Club September 21st, 22nd and 23rd 2016.
Watch for additional events which will occur between now and the Annual Conference.