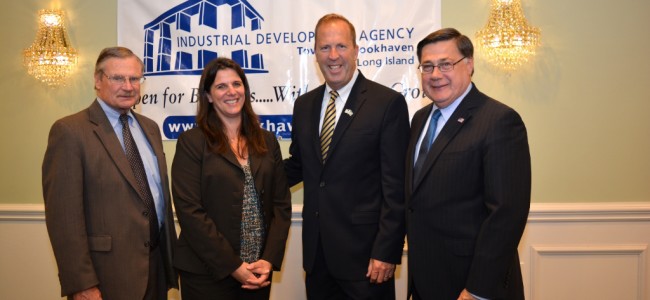 Town of Brookhaven Luncheon (June 2015)
At the June 2015 luncheon held at the Courtyard Marriott, Brookhaven Town Supervisor Ed Romaine welcomed the group with an update on the town's ongoing economic development programs and a current effort to raze or rehabilitate "zombie" homes that have been abandoned by their owners.
Long Island Association President Kevin Law gave the keynote, which focused on a new LIA study on the balance of payments between Long Island and Albany and Washington.
Residents and businesses in Nassau and Suffolk counties paid $57.5 billion in taxes and fees to Washington and Albany in 2013 and received about $30 billion in government services, spending, pension checks and aid. That translated into a "balance of payments deficit" of nearly $28 billion, LIA researchers discovered, and the deficit has grown by 65 percent since 2003.
"Long Island is a cash cow for Albany and an ATM machine for Washington," Law said.