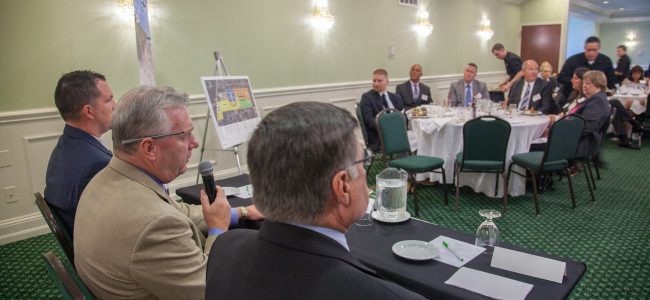 Town of Brookhaven IDA Lunch (July 2016)
Nearly 100 Long Island Business Development Council members and guests participated in the LIBDC Luncheon hosted by the Town of Brookhaven Industrial Development Agency at the Courtyard by Marriott in Ronkonkoma on July 22, 2016.
Sponsored by the Town of Brookhaven, the luncheon was led by Fred Braun, chairman of the IDA/LDC, as well as Lisa Mulligan, the Town of Brookhaven's director of Economic Development and the CEO of the IDA/LDC. Suffolk Federal Credit Union was also a sponsor of the program, represented by members of its executive management team.
The opening remarks by LIBDC Co-Chairman Ted Sasso were followed by a welcoming address from Brookhaven Town Supervisor Edward Romaine. In that address, Supervisor Romaine expressed the Town's ongoing commitment to and support of its businesses and residents.
The luncheon's presentation was on the topic "The Arboretum: Redefining Farmingville Hamlet" and featured a panel of speakers that included Brookhaven Town Supervisor Edward Romaine, Michael Kelly, president of Kelly Builders and Development Group and Michael Wentz, president of the Farmingville Hills Chamber of Commerce. The Arboretum is a proposed $100 million residential and retail complex at an abandoned 65.24-acre farm in Farmingville. The residential portion would have 51 single-family homes, 164 two-bedroom apartments, 63 town houses, 14 three-bedroom units and a 7,500-square-foot clubhouse for residents. A 7,728-square-foot sewage treatment plant would be built at the site to process more than 150,000 gallons of waste daily, and the development would include a 7.28-acre public park and 1.66 acres of ponds and additional recreational areas for Arboretum residents. Kelly Builders and Development Group is the project construction manager and the project has received key zoning change approvals from the Brookhaven Town Board.
The presentation was well received and followed by questions and answers from the assembled crowd.
The Long Island Business Development Council, now in its 47th year of continuous operation, has announced its plans for the 47th Annual Conference to be held at the Montauk Yacht Club September 21st, 22nd and 23rd 2016.