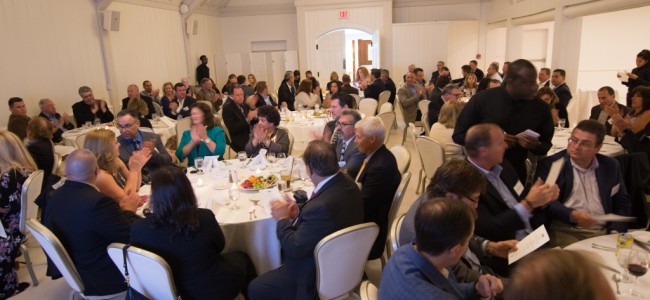 48th Annual Economic Development Conference
The Long Island Business Development Council's co-chairman Theodore Sasso, President of Sasso Realty, welcomed Long Island's business leaders, development experts and heads of government agencies to the Council's 48th annual three-day conference October 4th, 5th and 6th, held at the Montauk Yacht Club under blue skies and warm, pleasant early-October weather.
The Wednesday evening opening reception began with a presentation from newly appointed Executive Director of the New York State Economic Development Council, Ryan Silva. The evening also included presentations of Business Recognition Awards to East/West Industries, Penn Fabricators, Main Street Theatre Partners and Bagels by Bell.
Thursday morning began with two panel discussions:
The first, The Accounting Industry's Point of View, was moderated by Steven Kreit, Partner at EisnerAmper and included Robert Quarte', Managing Partner at AVZ, Richard Cooke, Partner, Assurance at Marcum and Andrew Vuono, Partner/Regional Risk & Compliance Leader for Baker Tilly Virchow & Krause.
The second panel, Financial Services in the Age of Trump, was led by Christopher Hilton, SVP, Commercial Banking Division Executive at First National Bank of Long Island and included Robert Isaksen, LI Market President for Bank of America Merrill Lynch, Edward Blaskey, EVP, LI Market President for Sterling National Bank and Anthony Esernio, Market President, Suburban NY for TD Bank.
Thursday afternoon comprised LIBDC's Annual Golf Classic and Bocce Tournament. Later that evening at the lobster buffet, LIBDC's Spirit of Long Island Award was presented to Bill Greiner, Founder of Greiner-Maltz Real Estate. Tom Attivissimo, the company's President and CEO, accepted the award after the audience viewed a video of Mr. Greiner speaking about the growth and sustainability of his company. Mark Buttice, DPW/Division of Planning for Nassau County was inducted into LIBDC's Hall of Fame and golf and bocce awards were also presented.
The concluding seminar, after breakfast on Friday, provided an overview of the Island's real estate markets by top executives in four leading real estate focused organizations. David Pennetta, Executive Director at Cushman & Wakefield moderated the panel discussion, The Real State of Real Estate, which included Mitch Pally of the Long Island Builders Institute, Kyle Strober of the Association for a Better Long Island, Laureen Harris of the Real Estate Institute at Hofstra University and Kyle Burkhardt of the Commercial Industrial Brokers Society.
The 2018 Conference has been scheduled for September 26th, 27th and 28th at The Montauk Yacht Club.