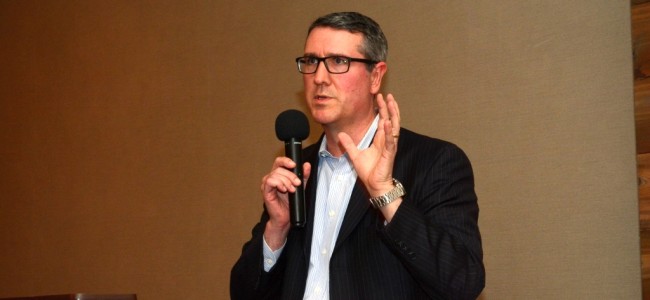 46th Annual Economic Development Conference (Sept.-Oct. 2015)
More than 120 business and government leaders turned out for the 46th annual conference at Gurney's Inn in Montauk, braving driving rain and a hurricane threat to discuss the future of Long Island's real estate market and the local economy.
The conference kicked off with a welcome by co-chairs Ted Sasso Jr., president of Sasso Realty, and John Kominicki, president of Innovate Long Island, followed by a keynote address from Mark Lesko, executive director of Accelerate Long Island and the new executive dean of Hofstra University's Center for Entreprenuship. The evening was capped off with a salute to local craft beverage producers, with representatives from Great South Bay Brewery providing samples of locally crafted beers.
On Day Two, Kominicki moderated a two-part panel on the Real State of Real Estate, featuring developers Matt Whalen of Avalon Bay Communities, Dan Serota of Serota Development and Phil Wachtler of Wachtler Knopf Equities. They were joined by real estate brokers Dave Pennetta of Cushman & Wakefield, Tom Attivissimo of Greiner-Maltz and Ray Ruiz of Jones Lang LaSalle, for a lively debate on the hurdles facing development in the region, including government red tape, land costs and continued civic opposition. Key take-away: The Island is making progress, especially in building much-needed apartment projects to house the millennial generation, although project costs do not yet allow rents that are affordable for young people.
Friday's economic overview, a panel discussion moderated by Mike Orsino of Suffolk County National Bank and featuring panelists Robert Isaksen of Bank of America, Gary Keith of M&T Bank and Jay Yarnell of HSBC, suggested Long Island faces significant economic headwinds, despite a rosy unemployment rate. The culprits: The region's evolving industry mix, which is replacing manufacturing jobs with lower-paying positions in healthcare and retail, and its aging population, already the major cause of worker shortages and likely to continue for years to come.
The LIBDC would like to thank the enthusiastic crowd of attendees — a record number, by the way — and sponsors, without whom the event would have been much less successful. Also, special congratulations to Ron Devine, winner of the annual Broken Club Award. Well deserved!