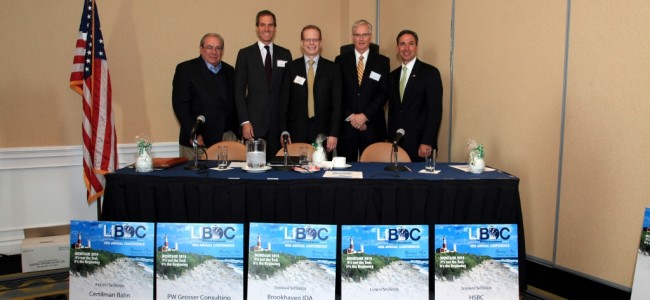 45th Annual Economic Development Conference (Sept. 2014)
More than 100 business and government leaders turned out for the 45th annual conference in Montauk, entitled "It's Not the End, It's the Beginning."
The conference kicked off with a dinner address by Ted Sasso Jr., President of Sasso Realty & John Kominicki, President of Kominicki Media Group. The evening was capped off with a salute to local craft beverage producers, with representatives from Great South Bay Brewery providing samples of locally crafted beers.
LIBDC Co-Chairman John Kominicki, moderated a panel on the Long Island film industry that featured Debra Markowitz, Director of Nassau County Film Office, Parviz Farahzad, President of Grumman Studios, Lyndsey Laverty, Principal of Gold Coast Studios, and Jenny Landey, President of Jenny Landey Productions.
Pat MacKrell, President of the New York Business Development Corp. moderated a banking and economic overview panel featuring Cristina Saenz de Zaitigui, Senior Vice President & Head of International Trade Finance at Santander Bank, Joseph Roberto, President of Bank Operations at BankUnited and Michael Orsino, Executive Vice President & Chief Lending Officer at Suffolk County National Bank.
The conference concluded with Brian McMahon, Executive Director of the New York State Economic Development Council moderating a panel on New York State Government Focus on Economic Development, which featured Jack Martins, Senator for New York's 7th District, Adam Spence, Senior Vice President of Start-Up NY at Empire State Development and Timothy Muldoon, Manager of Business Power Allocation & Compliance for New York Power Authority.
Awards Gallery
Panels Gallery
Networking Gallery