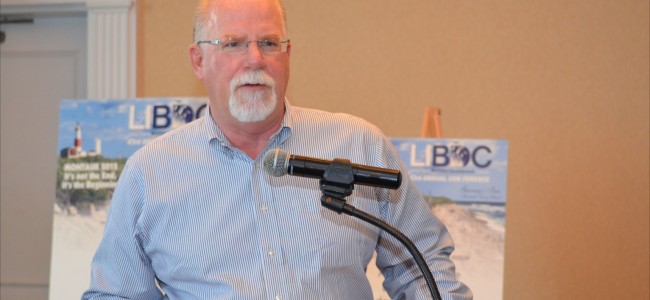 43rd Annual Economic Development Conference (Oct. 2012)
More than 100 business and government leaders turned out for the 43rd annual conference, "It's Not the End, It's the Beginning."
The conference kicked off with an afternoon seminar "Developments in Development" hosted by William Weir of the law firm of Nixon Peabody, followed by a keynote dinner address by David Katleski, President of the New York State Brewers Association, and the evening was capped off with a salute to the local craft beer industry with representatives from Great South Bay Brewery, Greenport Harbor Brewing Company and Southampton Public House.
David Wenger hosted an informational panel on the Pharmaceutical and Life Sciences industry on Long Island featuring Dr. Charles Ryan of Forest Laboratories, Joseph Scaduto of the Center for Biotechnology, and Bruce Ferguson of Ferguson Development Associates.
Patrick MacKrell moderated a discussion on the the local, national and global economy, with panelists Darrin Curtis of Capital One Bank, Gary Keith of M&T Bank and Jonathan Kozy of US Trust / Bank of America.
Award recipients included William Weir, Esq. of Nixon Peabody who received the Hall of Fame award; Clara & Tom Datre of the Long Island Home Builders Care Development Corp who received the Sustainability Award; Amy Newman & Patricia Hall of Canon USA who received the Business Commitment award; Lee Browning of Browning Hotel Properties who received the Suffolk County Business Recognition award; Joseph Farkas of Metropolitan Realty Associates who received the Nassau County Business Recognition award; and Dr. Charles Ryan of Forest Laboratories received the Targeted Industry award.